Hydrostatic Testing – Valve Modification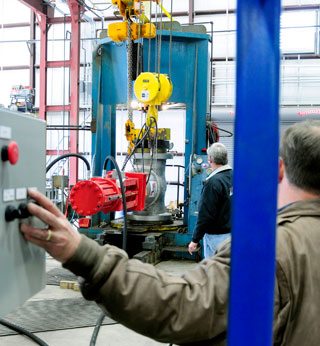 Our hydrostatic testing capabilities are the most extensive in the valve service business. Ten purpose-built testing machines allow us to efficiently perform hydrostatic tests on buttweld, flanged, screwed or socket-weld end valves of all sizes and pressure classes. Our largest machine easily accommodates buttweld valves through NPS 36, class 300.
Pressure capabilities are virtually unlimited, with 2500 psi water on-tap, provided by nitrogen over water pressure-vessel accumulators. Auxiliary pumps provide increased water pressures of up to 40,000 psi.