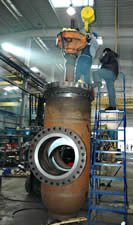 Through alliances and partnerships with 28 of the world's top valve manufacturers, United Valve provides factory authorized valve modifications and repair services to a broad spectrum of distributors and end-users. Our 60,000 sq. ft. facility is located in Houston, Texas, in the heart of the Texas refining and petrochemical belt.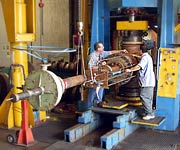 Our shop is equipped with state of the art machining, welding, pressure testing and non-destructive evaluation equipment. From X-ray radiography to CNC machining equipment, United Valve is vertically integrated to handle virtually any type of valve service in-house, with work performed by an experienced staff of technicians and craftsmen. Four overhead bridge cranes with a 25' hook height enable us to handle valves up to 30 tons.
Both valve manufacturers as well as end users have hailed our computer tracking system. It is "the central nervous system" of our entire operation, providing traceability and report generation capabilities on every valve that moves through our shop. This system is enhanced by extensive bar-coding capabilities, which provide high data accuracy and ease of data input. Advanced digital imaging equipment and software is also used to enhance our information gathering capabilities.
These "hardware" elements, combined with our 44 years of experience, have created a company with the equipment and expertise to handle virtually any valve repair, modification or service requirement.
Company History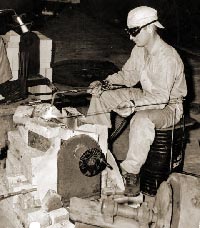 Leonard D. Johnson founded United Valve Supply in 1961. Prior to starting United Valve, Mr. Johnson had been in partnership with Gus Solberger in a company specializing in the buying and selling of surplus valves and fittings. During the late 40's to mid 50's, the government as well as government-supported industries were disposing of huge amounts of unused "surplus" valves, flanges and fittings stockpiled first for World War II and later for the Korean conflict. As a WWII veteran, Mr. Johnson was eligible to bid on and purchase these items. With the partnership dissolved, Mr. Johnson took a portion of the inventory to seed the new company with.
Business during United Valve's early years consisted of mainly reselling surplus valves. The surplus valve connotation had yet to be tarnished and these new, unused products were in great demand. After a few years of farming out valve refurbishing and machine work to other companies, United Valve purchased Marvel Valve Repair, a small valve repair company located on the corner of Wayside and Navigation in southeast Houston. In 1965 the operations at the Navigation shop were merged with the 6833 Ave W. location, located a few blocks from the Houston Ship Channel.
As the sixties rolled along, the repair and modification operations began to eclipse the sale of valves as the prime profit generator for the company. During this period, Leonard's wife, Wilmagene and his eldest son Joel, began working for the company, making it a true "mom & pop" valve shop. In 1967 United became an authorized Crosby relief valve repair center. A mobile unit for in-plant repair work helped usher in more and more repair business. The company continued to expand in 1968 with the addition of a second facility located in Texas City, TX. Some of the key Texas City customers at that time were The Texas City Refinery and Union Carbide.
The decade of the 70's brought more change as the repair function began to be phased out in favor of a new business focus: modification of new valves. This new focus grew rapidly as the boom of the 70's overstepped the delivery capability of domestic manufacturers for "special" valves. The distributors would generally just stock "vanilla" valves and have them re-trimmed or have special facings or packing and gaskets added to meet customer requirements. In those days, typical deliveries for modification orders were 4-6 weeks, due to the size of the orders. Comparatively, today's modification work deliveries run 1-2 weeks.
In 1978 United Valve moved from its east Houston location to new facilities in the city of South Houston. Coinciding with this move, the last bits of surplus valve inventory were sold or scrapped, and the valve sales era for United Valve came to an end. By this time, the core business was 98% valve modification, a trend that was to continue for the next 20 years. Also in 1978 another son, Greg joined the business after a five-year stint with the Houston Chamber of Commerce.
In the late 70's, the steel valve business began perhaps its most dramatic metamorphosis, as a new entity, the imported valve, made its way upon the American scene in force. In an ironic twist, it was the tremendous worldwide demand for U.S. manufactured valves that opened the door for the imports. Huge worldwide petrochemical and refining projects totally depleted the U.S. valve manufacturers production capacity and forced them to look elsewhere to meet domestic valve demand. Valves from Italy, Eastern Europe, Japan and Korea helped fill the gap. It didn't take long for the U.S. consumers to become accustomed to the lower price of the imports. The low priced imports spelled doom for the integrated U.S. manufacturers, as the next 10 years would see Crane, Lunkenheimer, Walworth and Jenkins close down their integrated valve plants.
These imported valves were rarely brought into the U.S. in anything other than standard trim, so United Valve benefited from the additional modification work they created. During the early 80's United Valve attained the first of its OEM modification authorizations. The number of authorizations would increase over the years to 20 by 2001.
The company struggled through the huge industry-wide recession of the mid 80's to emerge into 1990 stronger than ever. In 1992, Leonard Johnson retired and Greg Johnson became president. The 90's were a time of furious growth for United Valve. During this time, the physical plant expanded from a single 12,000 sq. ft. building to a 32,000 sq. ft. complex. In an effort to be as vertically integrated as possible, the company added NDE capabilities, automated heat treatment furnaces, AutoCAD and sophisticated testing machines to its equipment inventory. An extensive computer system transformed a paper driven shop into an almost completely digital one, where all shop operations are continuously logged and all materials are totally traceable.
The first year of the new millennium saw the company become more involved in valve repair at the request of both OEM's and end-users. While continuing a strong presence in the factory-authorized modification and service field, United Valve has made a commitment to match its unique facilities and personnel to solving specific end-user valve repair needs.
In 2004 the company moved into new facilities conveniently located on the Gulf Freeway, one of Houston's major highways. The 33,000 sq. ft. facility features 15 ton and 10 ton overhead bridge cranes, as well as a 32' eave height. The capabilities that the new building offers, enable United Valve to accommodate virtually any size valve for repair, testing or modification.